Equine Massage-Bedminster NJ and surrounding area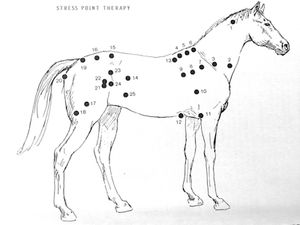 Education:
NY State Licensed Massage Therapist (Swedish Institute, NY, NY (750-hours))
Wilson-Meagher sports massage continuing education
Equinology Equine Anatomy
Certified Equine Sports Massage Therapist, Equissage
Cont. ed: Neuromuscular Therapy & Adv. Deep Tissue, Trigger Point Therapy, Polarity Therapy, Healing Energy & Touch
Reiki Level II Practitioner
Skidmore College, Saratoga Springs NY - Dance 
I worked for five years in the field of human massage therapy before working with horses.  I have practiced over 500 equine massages on a variety of horses.  I massage horses using the same principles of Swedish massage applied to equine muscle anatomy.  I am inspired by JoAnn Wilson and Jack Meagher's neuro-muscular sports massage techniques, which take into account bio-mechanics of muscle movement and common affected areas, as well as detailed equine muscle anatomy & physiology study.  My massage studies at the Swedish Insititute of Massage Therapy NYC focused on muscle anatomy & physiology (origin, insertion, and function of each muscle) in relation to Swedish massage and acupressure and I aim to approach the horse with this same level of detail.
I believe in educating interested owners/riders in basic massage techniques which can be done to benefit the horse between scheduled sessions with a massage therapist.
Massage sessions are individually tailored to the horse's needs, personality, performance demands, and sensitivity.
My goal always is improved performance, comfort, well-being and injury prevention of both horse and rider.
For more info or to schedule a session, email:  equineangelsmassage@gmail.com or call 917-749-6824
"

Muscle tightness produces a resistance to motion that works against the athlete, human or equine. . . Massage therapy helps restore freedom of movement. "
— Jack Meagher